Administrator
Staff member
Enforcer Team
Game Info Editor
Danzel
is back with an update to AFKIM, the universal messenger client for PSP. It currently supports a variety of chat protocols, including AIM, ICQ, MSN, GTalk, and Yahoo!. New to this release is support for the OE kernel (WPA connections will now work), faster display rendering, improvements in WiFi handling and an updated menu system.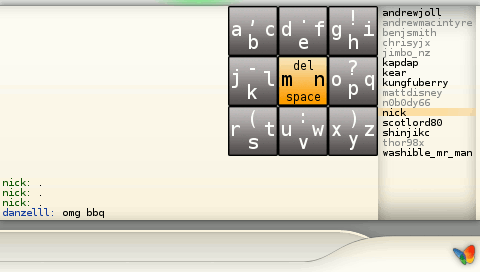 The changelog for AFKIM3 is as follows:

--3
Much better, more usable program.
Works in OE kernel, DHCP ONLY CURRENTLY, not sure why static IP address doesn't work.
Faster display rendering (Keyboard lags less)
Better wifi handling - User can rechoose which to connect to if connecting fails.
Better menu system, lots more menu items.
- Away / Back
- Remove Account
- Reconnect to Wifi (No more quitting AFKIM to reconnect! yay)
- Get Buddy Details
- Rename Buddy
- Block/Unblock Buddy
- Delete Buddy
Fixes related to pressing buttons, menus now continue scrolling if you hold up or down.
Better connection handling.
Many many code cleanups
Fix memory leaks (introduce a new known one Sad )

--2 and a bit
Quit option.
Ability to use start as well as X to go buddy select -> chat.
FIX: Editting text box with space messes up display.
FIX: Account details don't save sometimes.
Download AFKIM3 for OE
/
AFKIM3 for 1.5