KeyCleaner v1.4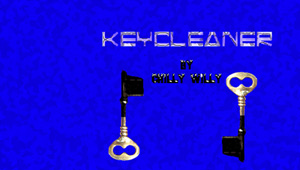 A new, easy to use app to show the state of the IdStorage in your PSP, and make corrections to common problems caused by the old downgraders (TA-082/86 only). Will dump keys as well.
EDIT: 2007/09/16 v1.4 releared. This update adds key 0x45 to the list of keys it'll fix. It also creates missing keys before fixing them. It now properly identifies and analyzes the PSP Slim.
EDIT: 2007/09/08 v1.3 released. This update fixes a few things found in v1.2, fixes more individual keys, adds cleaning to TA-079/81 PSPs, allows unpatching key 5, and allows the color scheme to be changed.
EDIT: 2007/09/03 v1.2 released. Major rewrite, easier than ever to use, no external keys needed, can create keys if needed (for hard-downed PSPs), and the colors are inverted to make it easier on the eyes.
EDIT: 2007/04/07 v1.1 released. Cleanups and support for different region PSPs.